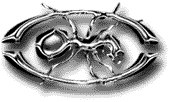 This page expresses thanks to all the people who made this site possible.
Tripod
For hosting this site for free.
The Official Prodigy Site
For the chrome prodigy logo used on this site and the other official logos. The picture of Keith Flint on the main page is an edited version of a picture from the official site.
Various Prodigy Sites on the Web
For pictures of the group and for the tabs and lyrics found on this page.
The Great Britain Ant Prodigy Logo on the counter page was created from scratch for this site. All the HTML on this site was done by dbanz and all the JavaScript Mouseovers. Some of the other JavaScript was edited from sources on the web to suit this site.